Jump to Recipe
This recipe for maple peach blondies is the perfect dessert to transition you from summer to fall! Loaded with bits of real, juicy peaches and warm brown sugar, these ooey-gooey maple blondies are the perfect treat! Top with an optional drizzle of maple bourbon glaze for even more of a fall touch.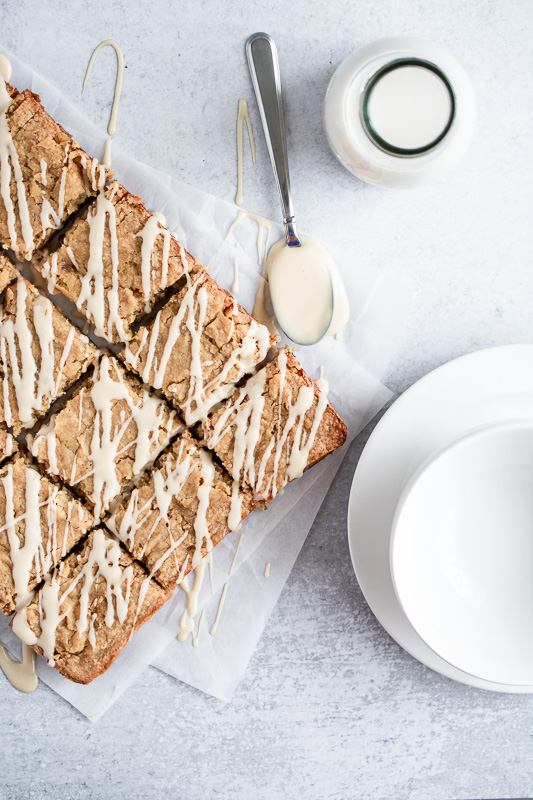 This post contains affiliate links. This means I may earn a commission should you choose to make a purchase using my link. It's okay – I love and use all of these products, and you will too!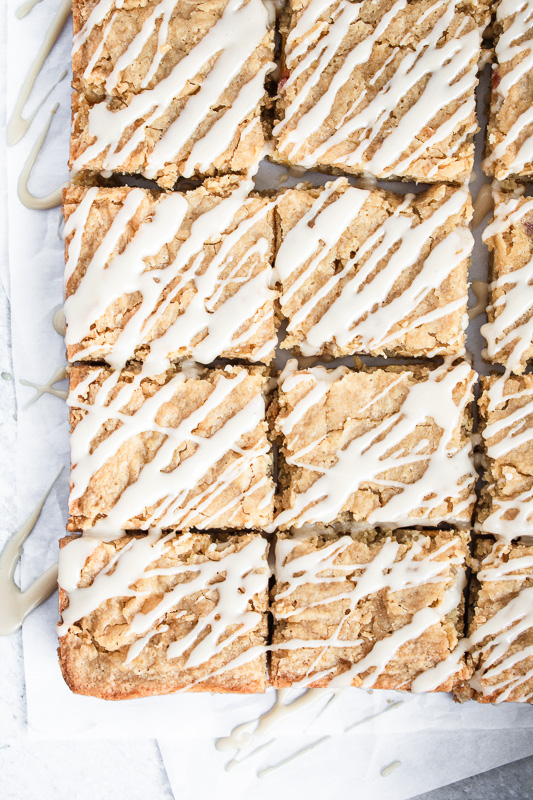 I was never much of a blondie fan until recently. To me, they were like the lame version of brownies. Wouldn't you much rather have a gooey, chocolatey brownie instead of a boring blondie?! I always did. Until now.
I've tried out a few different blondie recipes and have really started to enjoy them! One of my favorites is this funfetti blondie recipe that I created not too long ago. These now have me hooked! They are so buttery, gooey and delicious. Plus, one bowl and super duper easy! How can you resist?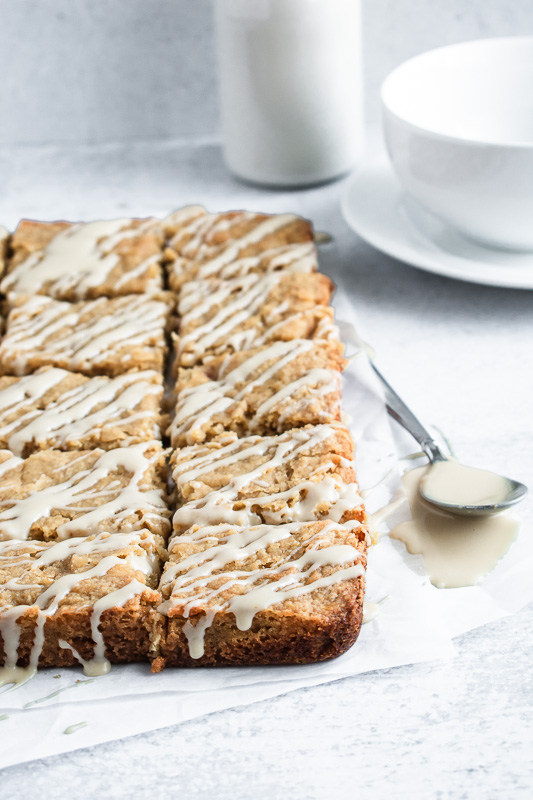 I'm kind of in the fall mood already, but I know that it's still summer (hello, 95-degree weather… please go away). But, this maple brown sugar peach blondie recipe is the perfect mix of fall and summer flavors! Read on for a bit more about blondies and then scroll down for the recipe for these maple peach blondies!
What are Blondies?
So, what's so special about blondies anyway? Aren't they just flour, butter, and brown sugar? Yes but… there's more! Blondies get overshadowed by their close relative, the brownie, a lot because well, they just don't stand out the same. But, you're really missing out if you don't see the yummy-ness that blondies can be!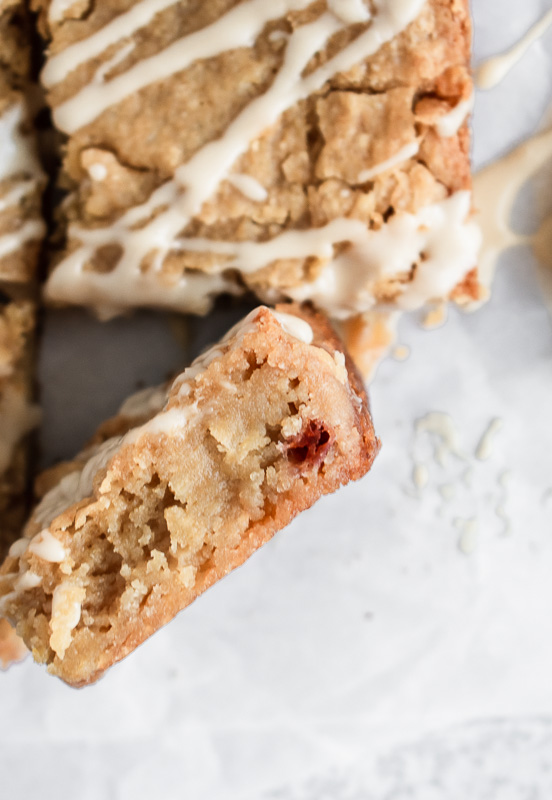 As I was making these maple peach blondies, I realized a few things that blondies have going for them:
They are super easy to make – blondies typically have few ingredients and are made with a process similar to cookie dough… meaning you only need to dirty one bowl. Hallelujah!
They're foolproof – with brownies, you have a few more variables when it comes to using cocoa powder. There are so many different types that will yield different results. But blondies? It's just simple brown sugar, flour and a few other basic ingredients. Easy!
They always come out chewy and buttery – if you like a chewy, fudgy brownie, then blondies are for you! They rely on brown sugar for their gooey chewiness which makes them extra soft and gooey. So good.
They are so adaptable – You can add in literally anything you want and blondies will taste amazing! Some of my favorites are leftover Halloween candy, pumpkin, sprinkles, chocolate chips. So many good options!
How to Make Maple Peach Blondies
Like I said above, the ingredients are simple. You'll need basic blondie ingredients plus a few extra add ins: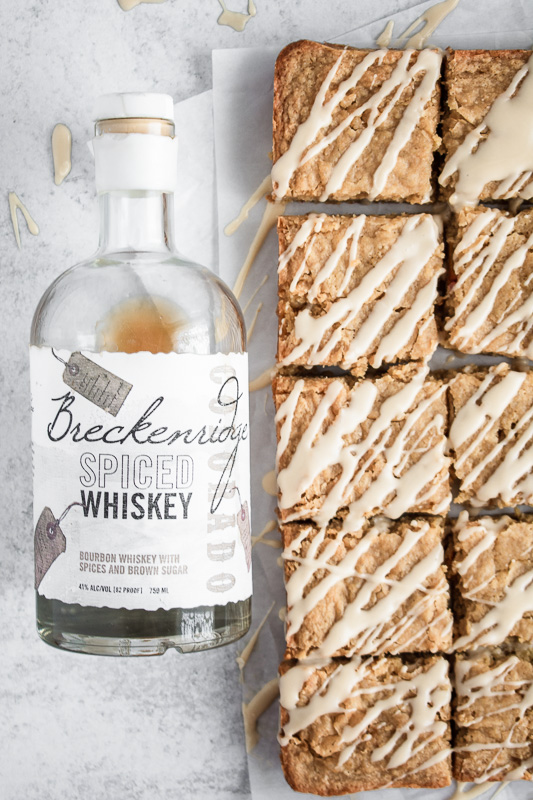 Peach Preserves – I used some homemade freezer jam from last summer, but I really love Bonne Maman preserves. Here is their peach flavor!
Fresh Peaches – I have a whole explanation on how to choose the best peaches for baking in this peach cobbler post. I do live in the "peach country" of Colorado after all! But in short, you will want to pick some sort of freestone peach because they are juicier and the pit is easier to remove.
Bourbon or Whiskey – This is what gives these blondies a nice fall touch! I love this Breckenridge Spiced Whiskey because it has the most delicious warm vanilla and brown sugar flavor. So yummy and perfect for these maple brown sugar peach blondies!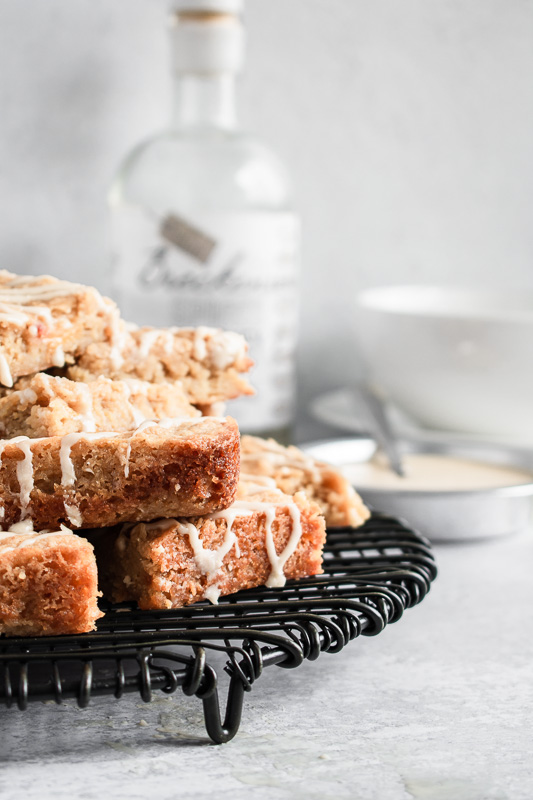 I hope you enjoy making these easy blondies! As the weather cools, they will be so delicious to have on an August night.
As always, be sure to tag me in your photos on Instagram if you make my recipe or use #bucketsofyum in your photos! I love to see what you are baking.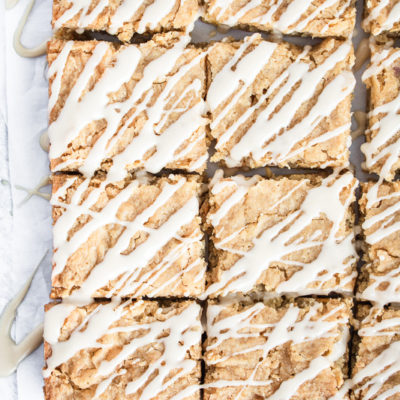 Maple Brown Sugar Peach Blondies
These maple blondies are loaded with juicy peaches and warm brown sugar. A splash of bourbon in the maple glaze really tops these off nicely!
Ingredients
For the Blondies
2

cups

firmly packed brown sugar

1

tsp

baking powder

½

tsp

salt

1

cup

unsalted butter, melted and cooled

¼

cup

bourbon

1

tsp

vanilla extract

2

large eggs, room temperature

2

cups

all-purpose flour

¼

cup

peach preserves

1

cup

fresh peaches, diced

(about 1 medium peach)
For the Glaze
1½

cups

powdered sugar

¼

cup

maple syrup

1

tbsp

bourbon
Instructions
For the Blondies
Preheat oven to 350°F. Line a 9×13 inch baking pan with parchment paper, letting the excess hang off of the sides of the pan.

In a large bowl, whisk together the brown sugar, baking powder and salt. Gradually add the melted butter and stir until just combined.

Stir in ¼ cup of bourbon and vanilla. Add the eggs one a time, whisking well after each addition. Stir in the flour until just combined.

Fold in the peach preserves and then fold in ¾ cup of the diced peaches. Spread batter into the prepared pan and top with remaining ¼ cup of peaches.

Bake until a wooden toothpick inserted into the center comes out with just a few moist crumbs, about 35 to 40 minutes. After 30 minutes of baking, you can cover lightly with a piece of aluminum foil to prevent over browning.

Let cool completely on wire rack.
For the Glaze
In a medium bowl, stir together the powdered sugar, maple syrup and bourbon. Drizzle over cooled blondies and enjoy!
Notes
Blondies can be stored in the refrigerator for up to 3 days, or frozen. Just make the glaze when you pull them out of the freezer!